Company Description
5 Wits Productions specializes in the design and fabrication of immersive adventure experiences, interactive exhibits, and special effects for museums, theme parks, theaters, and other popular destinations of educational and entertainment value.

Submarine bridgeIn addition to large amount of exhibit fabrication for museums, one of their main endeavors is the design and construction of the entirety of their own interactive adventure venues.

5 Wits venue lobby They currently have three locations, with 2-4 adventures each, with several more locations in the works. These adventures are like virtually no other themed entertainment experience you can find at most theme parks or entertainment centers. The themes of these adventures include an ancient Egyptian tomb, several spy-themed missions, a fairy tale castle, a derelict spaceship, a submarine experience, and several more. In each adventure, a group of up to 15 guests is put into the story and must solve puzzles and complete physical challenges to advance.

Laser security system Through multiple rooms, you experience the narrative first-hand through the use of immersive theming, lighting, audio, special effects, and characters. How your group performs at different activities can affect the story and change the outcome between several different possible endings, giving each experience some replay value.
For instance, in Espionage, a spy-themed adventure, you are briefed by the director of a secret spy agency and assigned the mission of recovering top-secret satellite plans from an enemy organization. To infiltrate the enemy headquarters, you must ride a realistic elevator simulator, climb through a laser security system, crawl through an HVAC duct, crack a safe, and hack into their computers among several other challenges.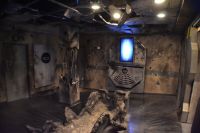 Exploded room If you're not careful, you'll have to escape a bomb detonation, and through the use of clever special effects, when you return to that room, you will find an exploded duplicate instead.
My Role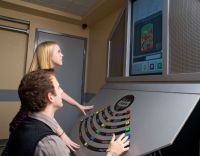 Chess-themed hacking puzzledI have been contracting for 5 Wits since 2007 for a number of different types of projects. At first I was mostly responsible for PC-based games and puzzles. This included a chess-themed password hacking puzzle for Espionage, a spy-themed adventure, a pair of spy-themed activities for a lobby kiosk, and a superhero-themed flying game for a superheroes museum exhibit. For our newest adventure, Deep Space, in addition to a space ship navigation and defence game, I also built the interface to display games on every surface of the "artificial intelligence core". The last room in this adventure is a 12 foot cubic room where all four walls and the ceiling are actually LED display screens. My software maps a small area of a computer screen to the 10,496 LEDs.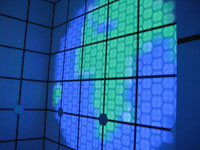 artificial intelligence coreHowever, my main role with 5 Wits lately is that of show control programmer for their bigger interactive adventures. For Espionage and 20,000 Leagues in Foxboro, Massachusetts, I did all the show control programming and lighting. For that project we used an Alcorn McBride show control system. More recently I have been responsible for all the show control programming of a Medialon system for four adventures in Syracuse, NY and three in West Nyack, NY. For both setups, I built custom tools for importing lighting that was designed in a separate system.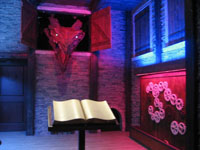 Animatronic dragonThe show control for these adventures is much more complicated that many types of exhibits. Not only does it need to synchronize lighting, audio, and physical effects, but has to adapt the duration and difficulty of the adventure for each group. Since these experiences are interactive and groups' abilities vary, the programming must react to both correct and incorrect input, and help the guests when they struggle. To increase throughput, there can be multiple groups going through the adventure at the same time in different rooms. We must keep track of these multiple groups and make sure that they do not run into each other. This requires adjusting the timing to speed up slow groups when there is another group behind them, or slowing down a fast group if they are getting close to a group ahead of them. In our newer venues, groups have no staff member to help them, and so they are entirely guided by a virtual character controlled by my software.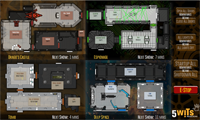 Syracuse control panelBeyond the show control itself, one of my big contributions to the operation of these adventures was a touch screen operator control interface. The addition of these touch screens allows the staff to better monitor and control the flow of groups through the adventures. They allow for easy startup and shutdown, and manual controls to aid with maintenance of some of the show elements.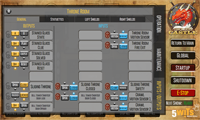 Drago's Castle I/O controlsAdditionally they record the performance of all the groups so that the data can be used to analyze and adjust the difficulty and enjoyment of each of the puzzles.
Videos